The Trilogy of Finance
HOW ANY BUILDER CAN RETIRE
A recent statistic that 76% of NRL players suffer from anxiety over their finances is alarming.
On average NRL players earn more than $300,000 per year and some of the top players more than $1,000,000.
As a business coach and mentor in the building industry, this financial anxiety statistic is similar. For this reason, I spent some time researching the stresses of finance and where the struggles mostly lie. For builders or businesspeople in general, it came from three major areas:
Business Finance
Personal Finance
Future Finance (retirement)
Business Finance – stresses mostly centre around annual profits, and even more so, cashflow.
Personal Finance – income for you to survive or to maintain a certain lifestyle (acquired through ongoing profits or a consistent wage drawn from the business)
Future Finance – is your retirement fund. This is the amount of money you accumulate over time which allows you to retire at a certain age and with a certain amount of money (until the big fella starts calling)
FINANCIAL PEACE
So how do we do we find peace with our finances and not become one of the 76% of NRL players suffering from finance anxiety?
The Trilogy of Finance is a model I developed to help provide a structure to help breakdown three major areas of finance and how we can remove the anxiety of money that exists in most people's lives.
What it also provides is a roadmap to help anyone retire sooner if implemented correctly.
HOW DOES IT WORK?
Let's keep this simple because numbers usually do people's heads in.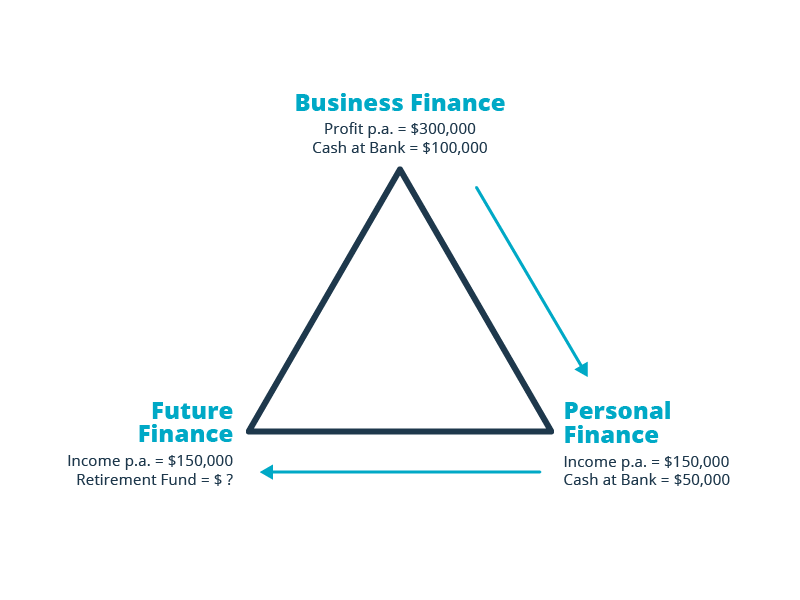 Business
To start, ask yourself, how much does the business need to profit each year (be very realistic and not too greedy) to not have to worry about profits anymore?
Then ask yourself, how much cash would I need in the bank on a daily basis to never have to worry about finding cash or pulling together funds quickly to pay the next bill or do small investments in the business? I like businesses to strive for 12 weeks' worth of overheads at a minimum.
Write this down in a box at the top of your triangle and then repeat this for each section of the Trilogy of Finance.
Personal
How much do you want to pay myself from the business, so you are personally content with your financial position to support your lifestyle? Please think of enough to cover the cost of living/mortgage etc., going on a holiday and treating yourself every now and then. Once again, please do not be too greedy, however do not be too tight because we do not want this target to be impossible to sustain.
I also stress, do not use a percentage of annual profits because this will set you up to fail. Your personal financial position should no fluctuate due to your business performance.
Then ask yourself how much money would you need in the personal bank account to not have to stress about bills or day to day living ever again? Have enough to cover surprises or luxuries, however not too excessive to the point where excess cash becomes wasted money sitting there.
Future
Finally, quite often people are wealthy and do not have to worry about money day to day, however they start to stress about it if they will have enough in the future and how much does this amount need to be. Even, worse they do not think about their future financial at all.
I ask people how much they need to retire, and most people have no idea – $10M, $20M or $100M, who knows.
Let us keep it simple again by asking yourself, how much money would you want to live off per annum when you retire? Let us use the same figure as your personal income target because this is sufficient.
To achieve the example target of $150,000 per annum, all we would need is to have is six investment properties bringing in $500 per week. This would equate to $3,000 per week and totalling $156,000 per annum.
6 properties x $500 pw
= $3,000 x 52 weeks
= $156,000
This is very achievable, therefore all you need to decide now is how soon you want to make this happen.
Inflation will help increase this figure as time passes by and mitigates the worry around what money will be worth in the future and the calculations around this.
In summary, finance for some people is overly complex and this is the reason why I have simplified the structure and focused on the three key areas.
The Trilogy of Finance model works, however it requires discipline and effort in each of the categories.
Finally, the model also needs people to be content with their finances and ultimately their life. Once we find peace within ourselves and the finances required throughout life, the rest starts to get easy.
More importantly anxiety levels drop, and life becomes more enjoyable.
So, let's implement this model immediately and start to enjoy life more.
Home Warranty Information and Wins