Key notes from Craig Bellamy event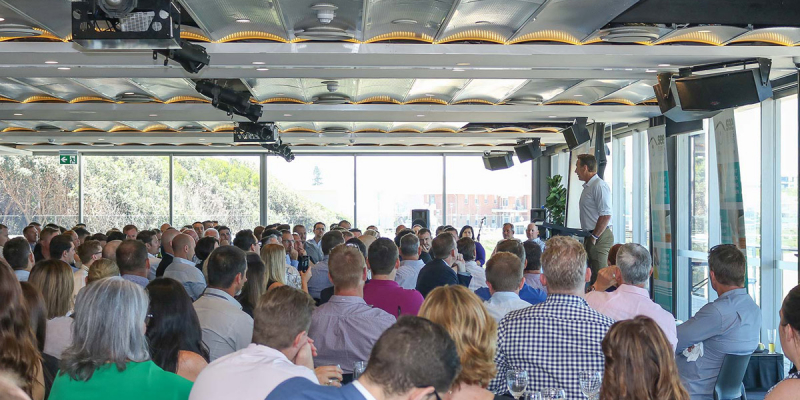 Here are the key points to take away from our Craig Bellamy 'Creating a Recipe for Success' event.
raig Bellamy's Major Four Points to Success
People – make sure you have the right people in your organisation. The people make the jumper (team), not the jumper makes the people.
Know Your Role – Your team must know their role and also understand how it effects the people around them.
Work Hard – If you want something, you have to work hard for it. If you want something really badly, you have to work really hard for it.
Do the 1%ers – Completing the little things will bring the reward, focusing on the reward distracts you from the little things, which prevents you from achieving the reward.
People
The right people are the ones who are willing to work hard and care about the club (organisation) and the people within it.
It is the player that makes the jumper and not the jumper that makes the player.
A coach (leader) needs to do their role so the team can move straight into what they are employed to do.
Know Your Role
You don't get the result unless everyone does their role. We all have to do our job consistently to allow the others to do their job. If everyone does their job well, you are in the best position to win the match (reach your goals).
Like football we need to build pressure. These are the little things that help build pressure. The mundane tasks that you may not like allow you to build pressure and then reap the rewards for your efforts. The 1%ers allow you to achieve the reward.
Own your role and don't let people down. Be responsible for your job and do it so well that you own it.
Brett White (former Melbourne Storm Front Rower) – When everyone does their job, this is an easy game to play.
Management
What – Players (staff) need to know what their role is. What should they be doing
How – They need to know how to do their role
Resources – People need the tools to be able to do their job. If they don't have the resources, you need to provide them because otherwise they will never be able to do their job
Will To Do It – This you cannot control. If a player (team member) does not have the will to work, then it is useless. Make sure you find the right people who are willing to work hard (enhance your culture)
*The theory is easy, doing it is the hard part
Player Wellbeing
3 Major Areas
Mindfulness
Gratitude (write down 3 things each day you are grateful for)
Empathy
Write a letter to someone in the past you are thankful for the impact they have made in your life.